I don't watch too many TV shows to be honest, but there are a few that I've been following which have been great, one of them being Scream Queens. I also watch American Horror Story, so you can see why I'd be interested in this. Just take a little bit of gore and horror, and mix them together with some comedy. Perfection.
The first episode did make me wonder what they were really planning to do, since pretty much half the people were killed just in that one episode... Seriously. Like, everybody.
So a serial killer is on the loose at Wallace University, and the girls of the Kappa Kappa Tau sorority follow the trail of a 20-year-old murder in order to find out who this killer might be.
First of all, I'm really, really glad that Grace was not the big main character after all, because that's how I thought it would be when I watched the first episode. And she was starting to get on my nerves. Thinking yourself better than everybody else doesn't really make you any better, Grace!
My favorite character was by far the oh so lovely Chanel #3.
LOVE HER. I was always hoping they wouldn't kill her off! But I wasn't too sure they'd want to kill any of the three original Chanels who were left. And this girl is just hilarious and I can't get over her earmuffs
♥
Chanel #3 also made a comment about my country, and we all get very excited over here when someone mentions us, because the world doesn't really know us (except for winning Miss Universe very often)... Was it a nice comment? No. Was it a lie? No. So relax, my Venezuelan friends. Sadly, girl was just speaking the truth.
I also appreciated that this wasn't just about the silly girls, but also about the silly boys. Those guys were ridiculously stupid, and I loved it. Their ultimate king was the brainless Chad Radwell... I still don't understand why Chanel was so mean to pretty much everybody and not to this guy, the one who was always hurting her and bringing her down... Oh well :/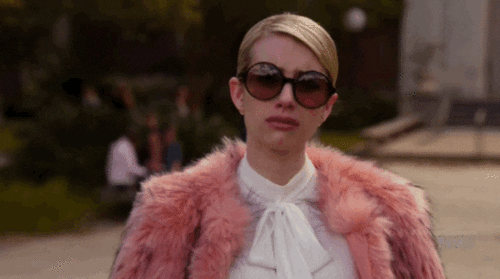 The situations these students and Dean Munch (who plays a huge part in this, by the way) found themselves in were always very entertaining, and I was actually having a little bit of trouble thinking who the killer might be.
Finally, the ending was everything I wanted it to be. Well, I'll admit there was a moment when I was pretty much terrified, seeing where things were going, but it all turned out great in the end! :)
Oh and that opening! It's wonderful!! I was very mad when I realized that the opening was not being shown before each episode, just like one time... Because why?! Why would they do that?? Give me that thing, I'll watch it over and over again, it's amazing!
I seriously miss this show, can't wait till season 2 comes out! I just hope we get to see a lot of the Chanels (and oh please don't kill Chanel #3 or original Chanel), and I have zero time for Grace by the way, don't really want to watch a show about her.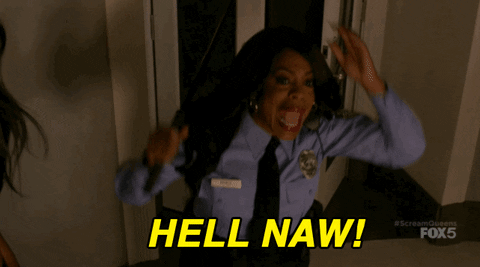 Oh and one big question... what did all those women see in Chad Radwell??! Jesus Christ -_-
Have you watched this show? What did you think of it?
Thank you for reading! Bye-Bye!
♥