Title: Darcy's Story
Author: Janet Aylmer
Genre: Historical Fiction, Regency, Romance, Retelling
Published: July 1996
My Rating: 2/5
When Elizabeth Bennet first met Mr. Darcy, she found him proud, distant, and rude—despite the other ladies' admiration of his estate in Derbyshire and ten thousand pounds a year. But what was Mr. Darcy thinking?
Jane Austen's classic Pride and Prejudice has long stood among the most beloved novels of all time. The story of Elizabeth Bennet's blossoming romance with "haughty, reserved, and fastidious" Fitzwilliam Darcy has enchanted readers for nearly two centuries. Yet, Mr. Darcy has always remained an intriguing enigma—his thoughts, feelings, and motivations hidden behind a cold, impenetrable exterior . . . until now.
With the utmost respect for Austen's original masterwork, author Janet Aylmer loving retells Pride and Prejudice from a bold new perspective: seeing events as they transpire through the eyes of Darcy himself. One of world's great love stories takes on breathtaking new life, and one of fiction's greatest romantic heroes becomes even more sympathetic, compelling, attractive, and accessible, all through the imagination and artistry of a truly gifted storyteller.
I'm not ashamed to say that I really like reading spin-offs of Pride and Prejudice. And I have to admit that I usually really like them… Although, if they change Darcy a lot, which some people tend to do for some reason (omg why?!), then I'll stop reading. Seriously, do you think the Mr. Darcy would've slept with a bunch of women before marrying Elizabeth? Really??
Uhm, that doesn't happen in this book though, haha. But I've found quite a few stories where this happens and I'm all against it… I just wanted to let my feelings be known, ahem.
So, let's start talking about the actual book now…
Darcy's Story
is a retelling of Pride and Prejudice… from Mr. Darcy's perspective! :D Hell yeah!!
When I started reading this, I realized that the author spent too much time describing Darcy. It's like… 'Uhm, yeah, I know Darcy. That's why I'm reading this book. I like Pride and Prejudice.' I think it was a little bit unnecessary. And it's not done only once. I read this really long description of him in the beginning, all right, that's fine. But then a few pages in, he's described again… and then again. I know Darcy. You know Darcy. We know Darcy. Now let's please move on, Janet. Let's move on.
A little while later, he's at the first ball. You know, where Bingley is totally captivated by Jane's beauty and Darcy totally insults Lizzie behind her back and she happens to overhear him… And nothing happened! I mean: nothing. I don't think he even saw Lizzie, he just glanced at her from the very corner of his eye when he told Bingley she wasn't handsome enough to tempt him. I was kind of expecting something, you know. Maybe Darcy thinking 'Oh, she's kinda pretty, but whatever. I'm very busy being important and rich.'
Suddenly, he's crazy about her. He starts thinking about her all the time, he wants to see her every chance he gets… But I don't even know when it started! When does he exactly start liking Lizzie? I was all lost. But oh well, maybe he was too.
I really felt like all the feelings were lost though. Where's the magic?? It was like the author was in a real rush to get on with things and finish the story. Now, I do admit that I was grateful for this sometimes… Because seriously, who enjoys reading about his time away from Hertfordshire or when he's looking for silly Lydia and Wickham? But other than that, I didn't get to appreciate all the nice moments. They just lasted like four lines.
I also realized that Darcy barely thinks about Jane and Bingley. One of the biggest things that happen in Pride and Prejudice is that Darcy and Bingley's sisters keep him away from Jane, they don't like the Bennet family from day one. But in this book, it's like Darcy suddenly thinks about this whole thing one day and tricks Bingley into staying away from the country. Just like that. Because he's more busy thinking about the future Mrs. Darcy (aka Elizabeth), which is nice, and I love it, but I'm pretty sure he spent a little bit more time thinking about his friend's relationship, too.
And there's actually a time when Mr. Darcy is completely sure Lizzie likes him and wants him to propose. I mean, sure, in the original story he was so very convinced she would say yes, but that's mostly because of his name, connections and wealth. He thought she liked him, but not that she was actually sitting around counting the hours to be proposed to by him. Right?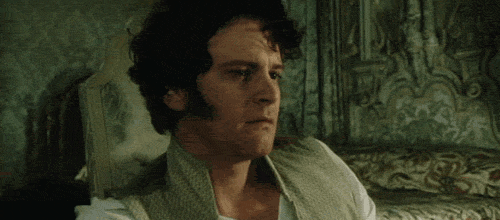 Oh my God, I'm so sorry for all the complaining, but I really didn't like this. I had actually thought of giving this 3 stars, but then I realized I would've just given it that extra star because it was about Pride and Prejudice, and that would hardly be fair.
I don't want to say that Janet Aylmer is not a good author, by any means. I haven't read any other book written by her. But since this was a retelling of a very well-known book, it's a little bit difficult to judge her writing skills.
Maybe some of you might like it though, this is just my opinion. If you're interested in reading a really good retelling from Mr. Darcy's perspective (again, in my opinion), it's Mr. Darcy's Diary by Amanda Grange. God, I loved that one!
Have you read any Pride and Prejudice spin-offs? Any recommendations? :)
Thank you for reading! Bye-Bye!
♥